Goldsmiths Apprenticeship Program....January 2020
Make someone a gift in one of our 1 day craft jewelry classes!

Bracelets and Earrings in a Day!! Come and join us for two craft jewelry classes, Earrings and Bracelets. Take one or take both! These classes introduce the student to basic skills in jewelry fabrication such as cutting, forming, filing, texturing, making earring wire, hammering, and using a foredom flexshaft to do clean up and polishing. Metals used are copper, brass and sterling silver. Everyone will leave with a completed project, or several!
                     *    Saturday, December 14    (2 spaces left!)
Earrings Class is $89 and is held from 9am-2pm.......Bracelets Class is $45 and is held from 3pm-6pm. Take both for $125
All Materials and Tools are Included.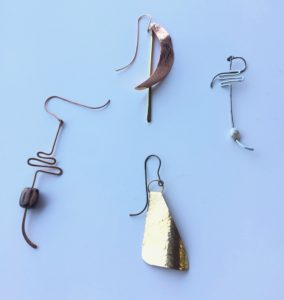 Contemporary Filigree Workshop with Valentina Caprini of Florence, Italy.
                    February 6th-9th, 2020      $800    Includes Filigree Kit and materials
                                                                    3 spaces left!
In the four days of this intensive course, you will be able to immerse yourself in the world of one of the most ancient techniques in jewelry, learning step by step every phase to realize a Filigree jewelry piece.
Starting from the twisting technique of metal wires, you will discover the endless possibilities of weaving, and intertwining and filling in the wire.
Under the guidance of the teacher, every student will have the possibility to create a wearable piece working the silver with special hand-made pliers, in order to 'weave' a unique jewel, interlacing a centuries-old technique with your own unique hand trait.
What is more, with the knowledge of the traditional technique every student will be followed personally through a creative process, focused on empowering each unique artistic language. Inspiring exercises and imaginative activities will help the students to develop original ideas in the making of a contemporary and unusual Filigree piece of jewelry.
Gift Certificates now available! 
How do you add value to your everyday life? Do you create? Do you harvest? Do you render? Do you build? Share your handmade story, let us all create a dialogue for a handmade future.
Student Gallery
Photos of students working and photos of their work created during workshops and classes.
Instructors Gallery of Work