Chasing Chisel Workshop with Douglas Pryor
Chasing, repousse, uchidashi, all these styles rely on chisels we use to sculpt and shape metal.
An artist must know how to make their own tools, eventually you will challenge yourself to a project where the tools you have are not enough.
That's what we are focusing on in this 2 day course.
All those strange and difficult chisels, all the weird specific shapes that you need for custom jobs.
In this chisel making class we will be pouring over tool making strategy for one purpose and one purpose only:
to remove the barrier of tooling making so you can make the art you want to make.
Make as many chisels as you can in 2 days with the guidance and recommendations of professional chasing artist Douglas Pryor.
Tool info:
All tooling provided: Hand files, sharpening stones, optivisors, hand vices, and spring steel all provided.
Spring steel stock from 1/8th-1/2 inch will be available to work with. Chisel lengths will be pre-cut to 4-5inch lengths so we can spend our valuable time making the tools not the bar stock.
We will be using square and round stock for the chisels. Steel of W1 and O1 will be used for this chisel making jamboree.
Dates: November 16th and 17th in the year of 2019

Price: $450 per person

Bracelets and Earrings in a Day!! Come and join us for two craft jewelry classes, Earrings and Bracelets. Take one or take both! These classes introduce the student to basic skills in jewelry fabrication such as cutting, forming, filing, texturing, making earring wire, hammering, and using a foredom flexshaft to do clean up and polishing. Metals used are copper, brass and sterling silver. Everyone will leave with a completed project, or several!
                     Sunday, October 13   *   Saturday, November 9    *    Saturday, December 14
Earrings Class is $89 and is held from 9am-2pm.......Bracelets Class is $45 and is held from 3pm-6pm. Take both for $125
All Materials and Tools are Included.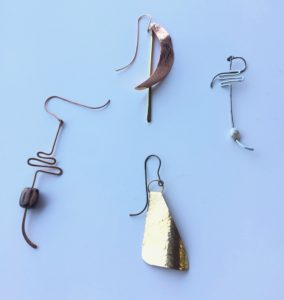 Contemporary Filigree Workshop with Valentina Caprini of Florence, Italy.
                    February 6th-9th, 2020      $800    Includes Filigree Kit and materials
In the four days of this intensive course, you will be able to immerse yourself in the world of one of the most ancient techniques in jewelry, learning step by step every phase to realize a Filigree jewelry piece.
Starting from the twisting technique of metal wires, you will discover the endless possibilities of weaving, and intertwining and filling in the wire.
Under the guidance of the teacher, every student will have the possibility to create a wearable piece working the silver with special hand-made pliers, in order to 'weave' a unique jewel, interlacing a centuries-old technique with your own unique hand trait.
What is more, with the knowledge of the traditional technique every student will be followed personally through a creative process, focused on empowering each unique artistic language. Inspiring exercises and imaginative activities will help the students to develop original ideas in the making of a contemporary and unusual Filigree piece of jewelry.
How do you add value to your everyday life? Do you create? Do you harvest? Do you render? Do you build? Share your handmade story, let us all create a dialogue for a handmade future.
Student Gallery
Photos of students working and photos of their work created during workshops and classes.
Instructors Gallery of Work